percussion caps
Quantity
1000
CCI Percussion Caps
We made the muzzleloading world a lot brighter in 1975 when we introduced our #11 percussion caps. Why? They were non-mercuric, non-corrosive, and darned reliable. We've now expanded the line to four popular products. In addition to the #11, there's the #11M with more power to light off replica black powders. For revolvers with smaller nipples, there's our #10 cap. And for original and replica muskets and rifles that require large, winged caps, we have the Four Wing Musket Caps.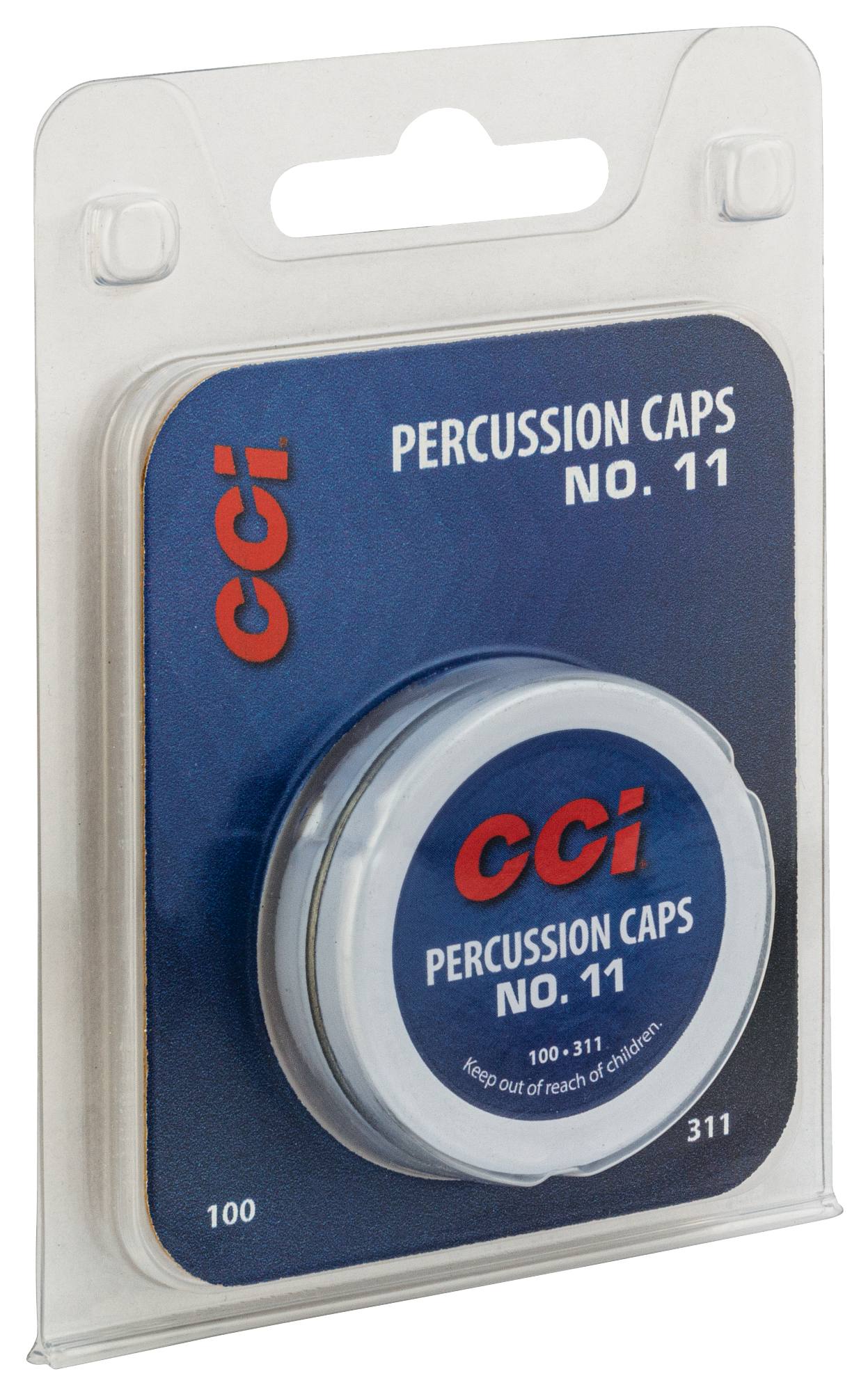 When using any percussion caps for reenactment or demonstration shooting without a powder charge or bullet, only use nipples with a large internal diameter. Standard nipples intended for normal loads can clog when fired repeatedly without a powder charge, potentially causing the cap to fragment. We recommend a minimum internal diameter of 0.050 inches for nipples used without powder charges and bullets. Thoroughly clean nipples and the flame path during firing sessions. Always wear approved shooting glasses when firing any muzzleloading firearm.
Modern non-corrosive, non-mercuric priming mix
Assembled in ribbed copper cups just like the originals
Matched to standard nipple dimensions
Clean-burning and reliable ignition
Packed in traditional 100-count tins
#11—standard revolvers and rifles with #11 nipples
#10—for some imported revolvers having smaller nipples
#11M—for igniting replica black powder and powder pellets
Four Wing Musket Caps—Optimized charge for replica muskets
Important Product and Safety Information
We recommend the use of protective eyewear whenever using or near the use of this item.
Item will only be shipped using Ground Shipping to the contiguous 48 states only.
You must be 18 years old to purchase this product. In ordering this product, you certify that you are at least 18 years old and satisfy your jurisdiction's legal requirements to purchase this product.
It is the customer's responsibility to know and follow all federal, state and local laws and regulations that apply to the purchase and possession of black powder firearms. Check your local laws before ordering this product.
The sale or shipment of this product to residents of certain jurisdictions is prohibited. Check your local laws before ordering this product. Check your local laws for any other regulations.